We are born ready to heal
Life is traumatic from the get-go
Birth.
Wailing, covered in blood, gasping for air.
To prepare us for what's to come.
Fragmented from ourselves day to day.
Connected to machines more than one another.
We are already cyborgs.
I use art to connect to a deeper version of myself.
A truer, more honest, version of myself
I let go of control and allow the images or words to flow out of me.
It is my escape
I turn to art when I am too happy to sit down still
And when I am too sad to sit upright
Not to make a masterpiece
But to explode my feelings onto surface
Rushed, line and colour imbued with a sense of urgency.
Scribbling
Doodling
Finger painting
Splatter
Collage
Making a mess for the sake of mess making
Because it's healing.
Externalizing the chaos helping to control it.
How to enter the art world, when art has been a way of exploring my inner worlds?
Disconnected from these worlds in the act of making art a commodity.
Searching for capital, neglecting the actual.
I realized that I need to not only create, but also that I need to share my methods of connection,
and escape
through the act of creation.
Connection, not commodification.
Leading workshops, provoking thought, encouraging creativity, facilitating discussion.
With the goal of healing.
Personal healing.
Collective healing.
Using paint as the thread and the brush as the needle that will sew our wounds shut.
Making us stronger. More resilient. Together.
It's what I'm trying to do in this world. It's what I'm meant to do.
Sharing how I express my inner self, so you can too.
Feeling, breathing, and seeing yourself differently through the
art making process
Tuning in, reflecting, expressing. Creating without allowing commodity to take over.
Capitalism is so pervasive,
So unavoidable,
That it seeps into our creative flow.
A little voice reminding us to be palatable. Digestible for the general public. Easy to consume.
It's ok to not be ok
It's ok to express
It's ok to feel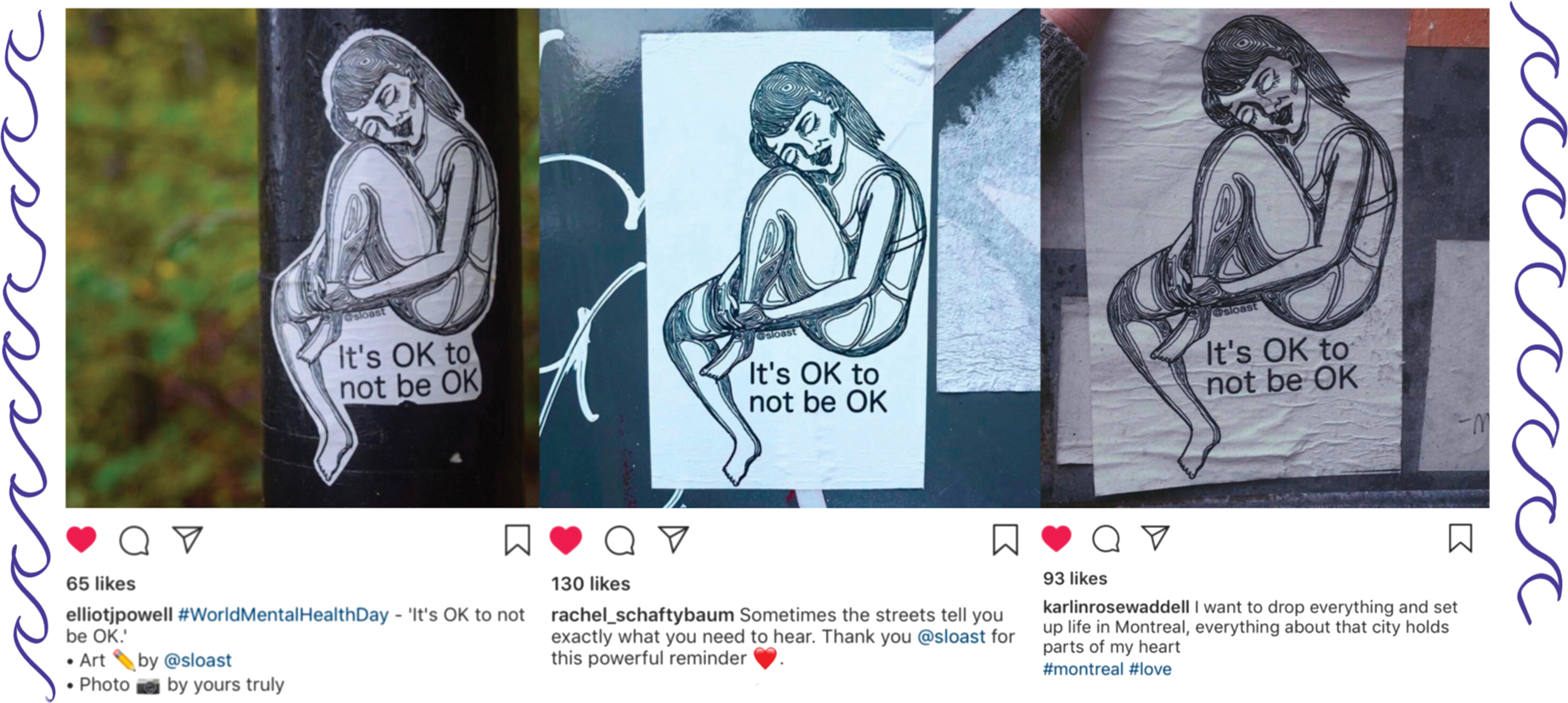 I put my art in the streets so others can see themselves in what I've created.
To relate to something in a passing moment. To feel something intensely, unexpectedly.
On the very machines that aid in fragmenting experience, people capture their feelings when confronted with my street art through social media.
And instantly, I am reminded that I am out there.
Watching, affecting.
I exist through my art.
Not disconnected, but deeply embedded into the environment, facilitating vulnerability in downtown streets, if only for a moment.
Healing knows no bounds. As healers, we are limitless. Our reach is unfathomable.
But we are nowhere near done. The world is hurt. Damaged. And healing is necessary.
We need more love and less hate, more compassion and less judgment.
More creation, less destruction. And we need all the help we can get.