---
Montreal Release for "Queer & Now" Issue
July 22, 2019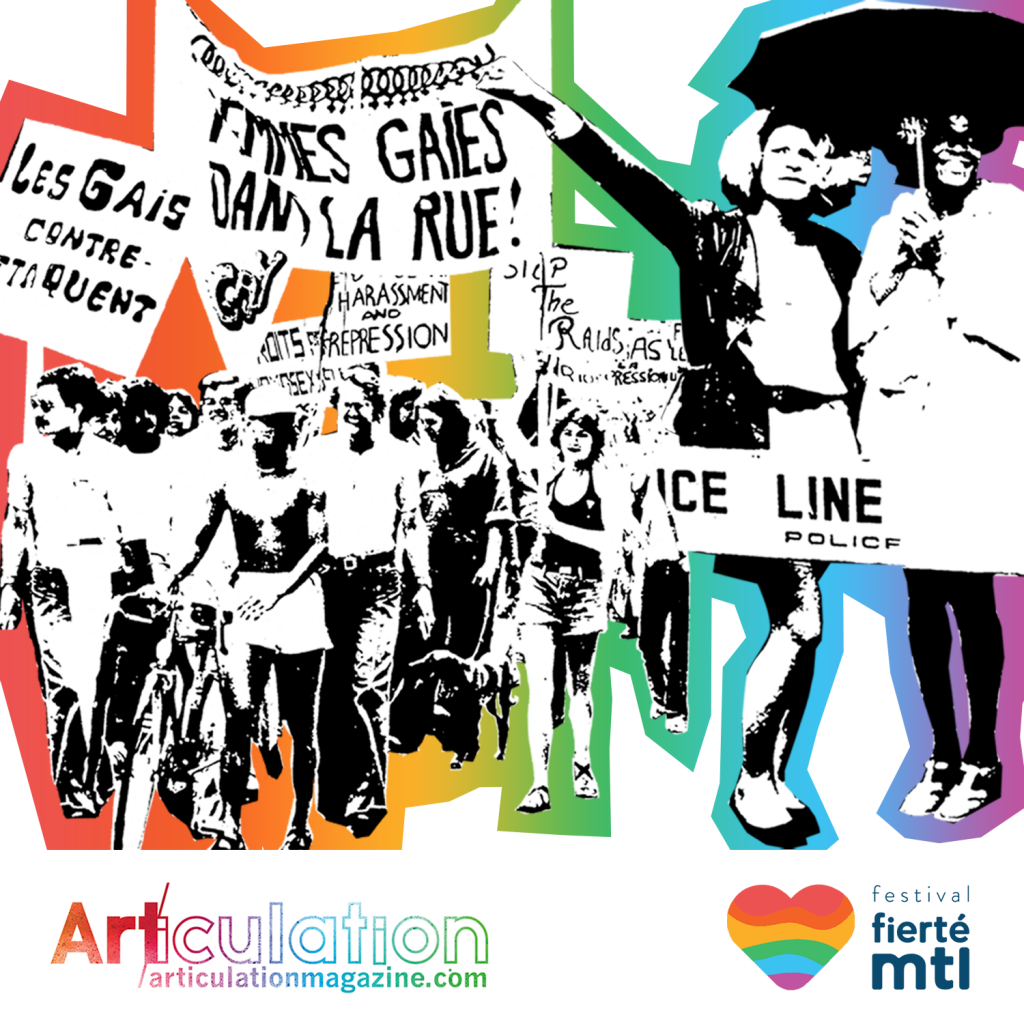 Join us on August 15, 5-7 pm, at Parc des Faubourgs for the launch of our new DOUBLE issue celebrating LGBT2SI+ resistance and the revolutionary roots of queer liberation! Click here for more information.
Profiled in the McGill Reporter
June 14, 2019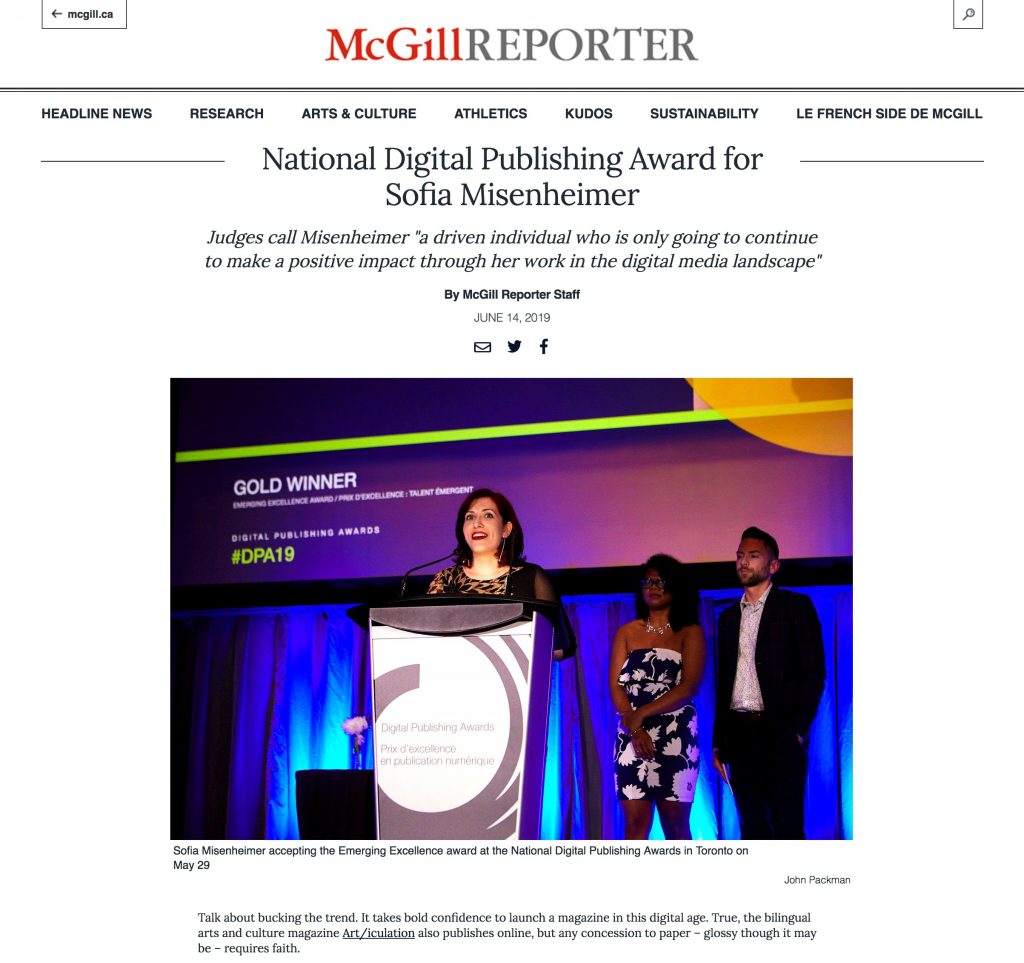 "'The magazine is sustained not only by the brilliant contributions of writers, artists, students, and professors, but by the sponsorship of readers and nearly 20 university faculties, student organizations, and granting bodies, who see value in Art/iculation,' said Misenheimer, creator and editor of the magazine that received $1,500 from the Mary H. Brown Endowment Fund run by McGill's Office of the Dean of Students."

Click here to read the article.
---
Finalists for Arts, Letters and Culture Award!
June 7, 2019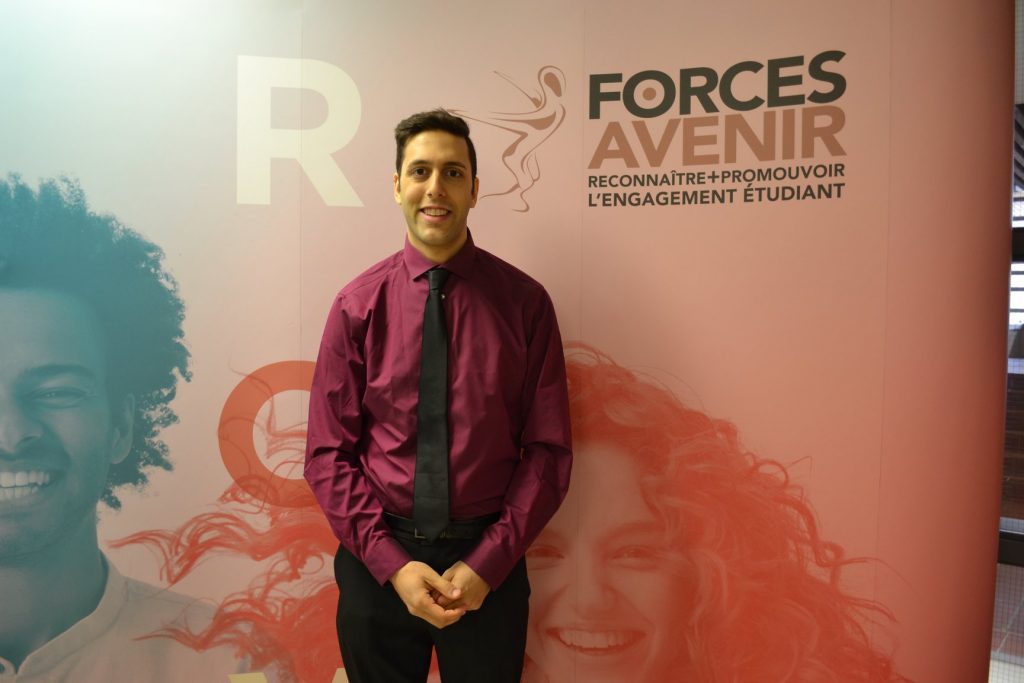 We're delighted to share that Art/iculation has been selected as a finalist for the Art, Letters, and Culture award from Forces Avenir! Thank you to editorial team member David Rawalia for presenting our work in-person at last month's interviews!
---
Art/iculation Wins Gold at the 2019 Digital Publishing Awards!
May 29, 2019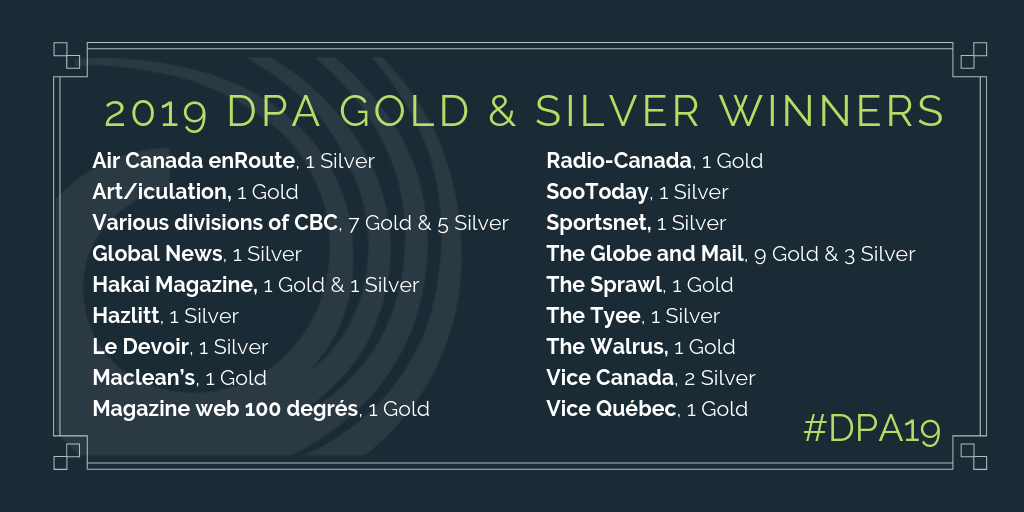 We're thrilled to receive our first ever gold from the Digital Publishing Awards! Thank you to our editorial team, contributors, sponsors, and readers who together make Art/iculation possible!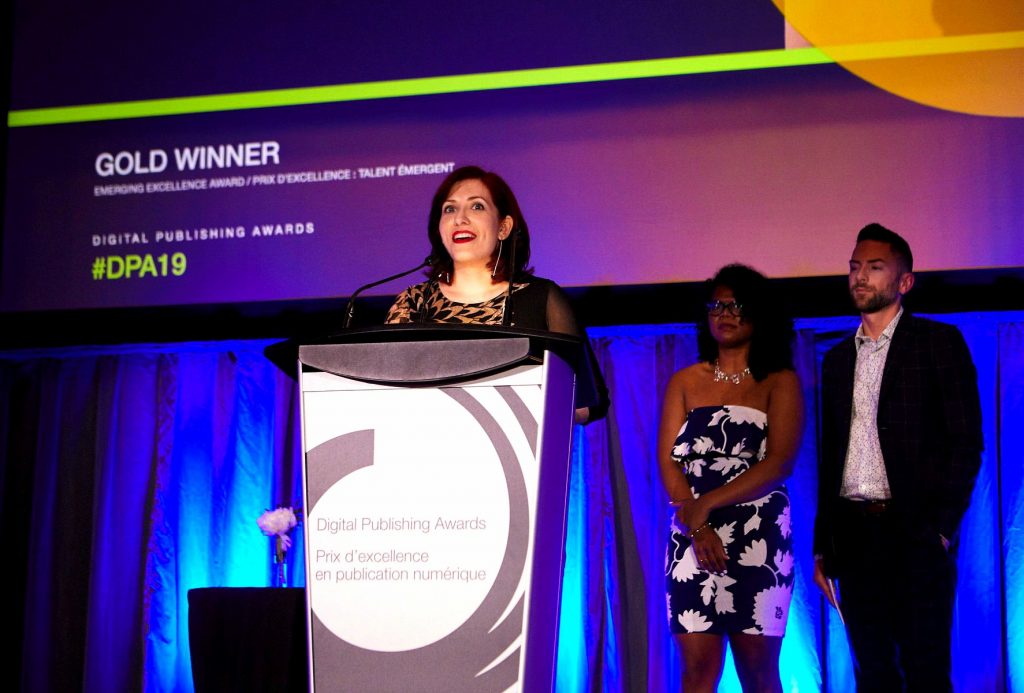 Congratulations to Art/iculation Founding Editor Sofia Misenheimer, who won this year's #DPA19 Emerging Excellence Award! And well done to all winners across the Canadian mediascape!
---
Forces Avenir Interview
May 21, 2019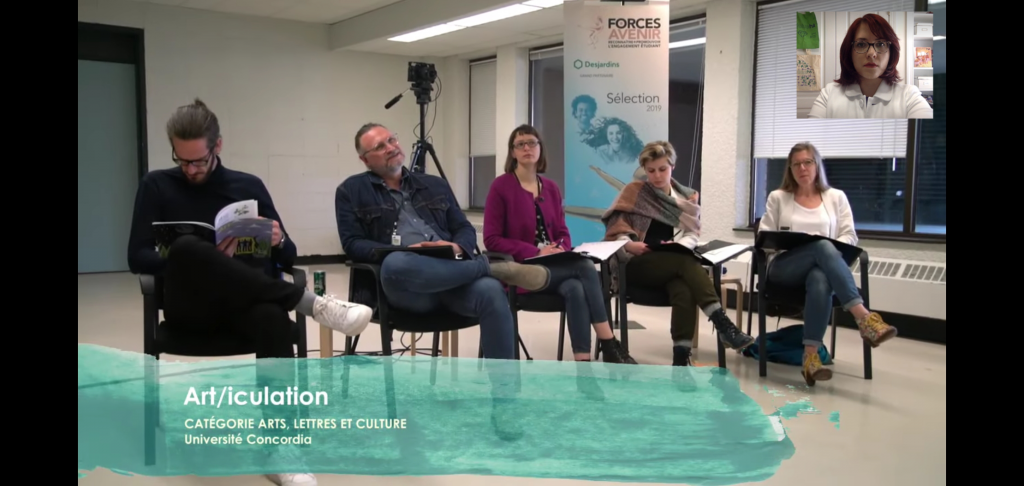 Following the initial application process, our team was invited to present Art/iculation before the Forces Avenir jury for the Art, Literature, and Culture category.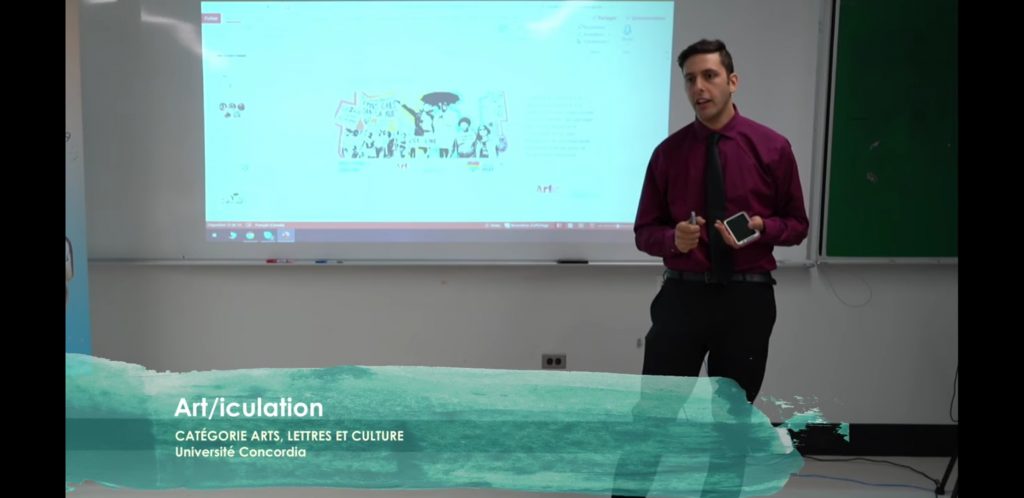 Editorial team member and Web Systems Administrator David Rawalia presented at Cégep de Lévis-Lauzon in front of the five member panel, while Sofia Misenheimer participated by video chat!
---
Open Call for 2019 "Queer & Now" Issue
March 15, 2019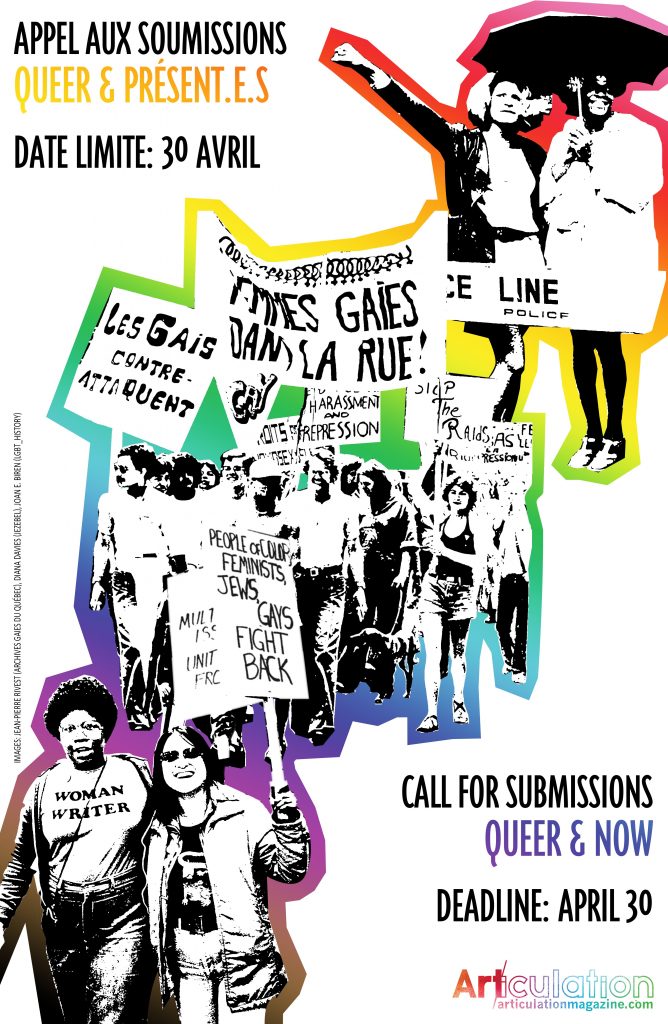 We're looking for works that reflect on LGBT2SI+ resistance, the revolutionary roots of queer liberation, 50 years since the Stonewall riots in New York City & the legacy of the 1969 "decriminalization" of homosexuality in Canada. Click here for more details.
---
Panel at Fierté en Hiver
February 22, 2019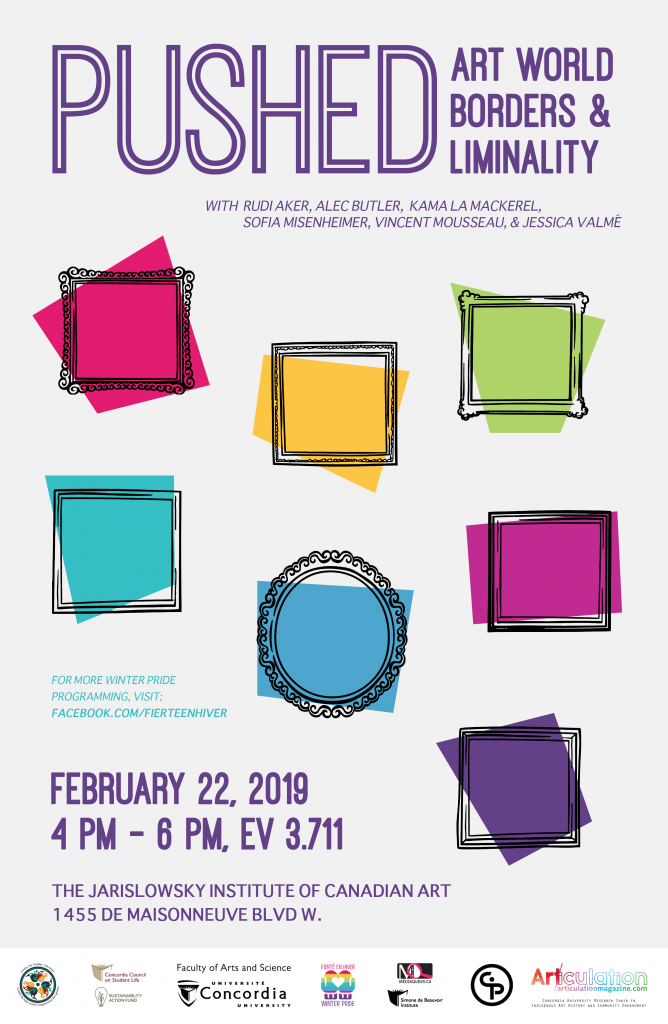 We're proud sponsors of Fierté en Hiver, a celebration of queer community voices often overlooked by mainstream Pride celebrations, especially those of gender non-conforming, 2Spirit, and QTBIPOC individuals.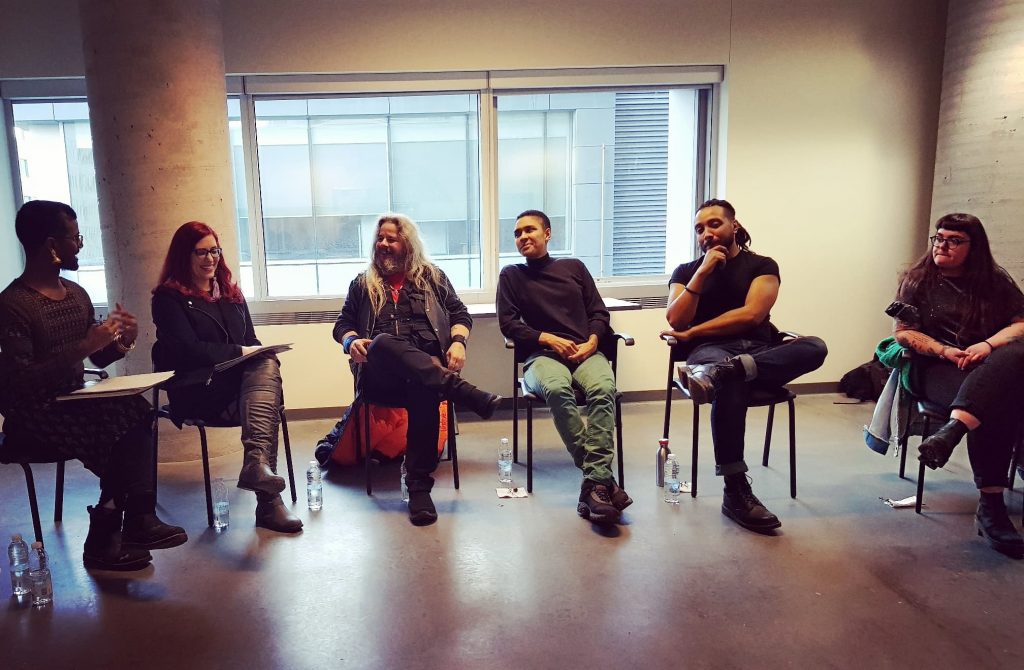 Editors Sofia Misenheimer and Vincent Mousseau participated in the "Pushed: Art World Borders & Liminality" panel, sharing the ways that Art/iculation aims to support more equitable local arts and culture scenes.
Pictured from left to right: Kama La Mackerel, Sofia Misenheimer, Alec Butler, Jessica Valmé, Vincent Mousseau, and Rüdi Aker.
---
Queer Healing Day 2019
January 5, 2019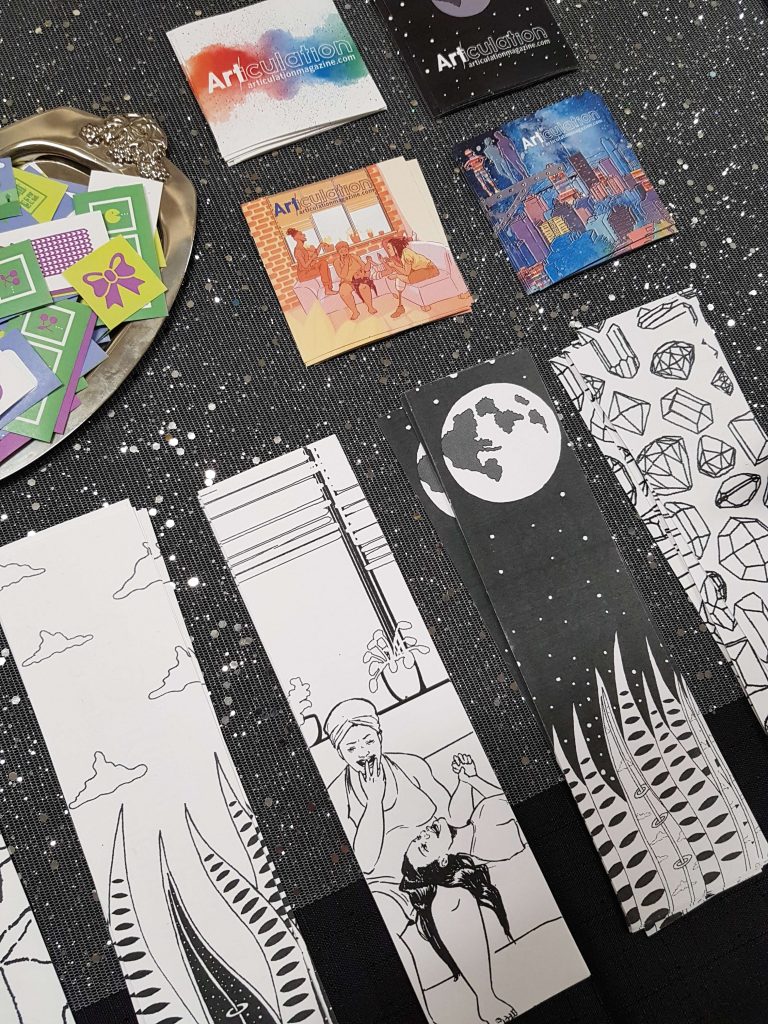 Come check out the annual Queer Healing Day gathering and pick up a copy of "The Art of Healing" issue and related goodies, like agenda stickers with Creative Projects to Feel Better and colour-in bookmarks with our prior covers, all promoting wellbeing through engagement with the arts!
---
Expozine 2018
November 25, 2018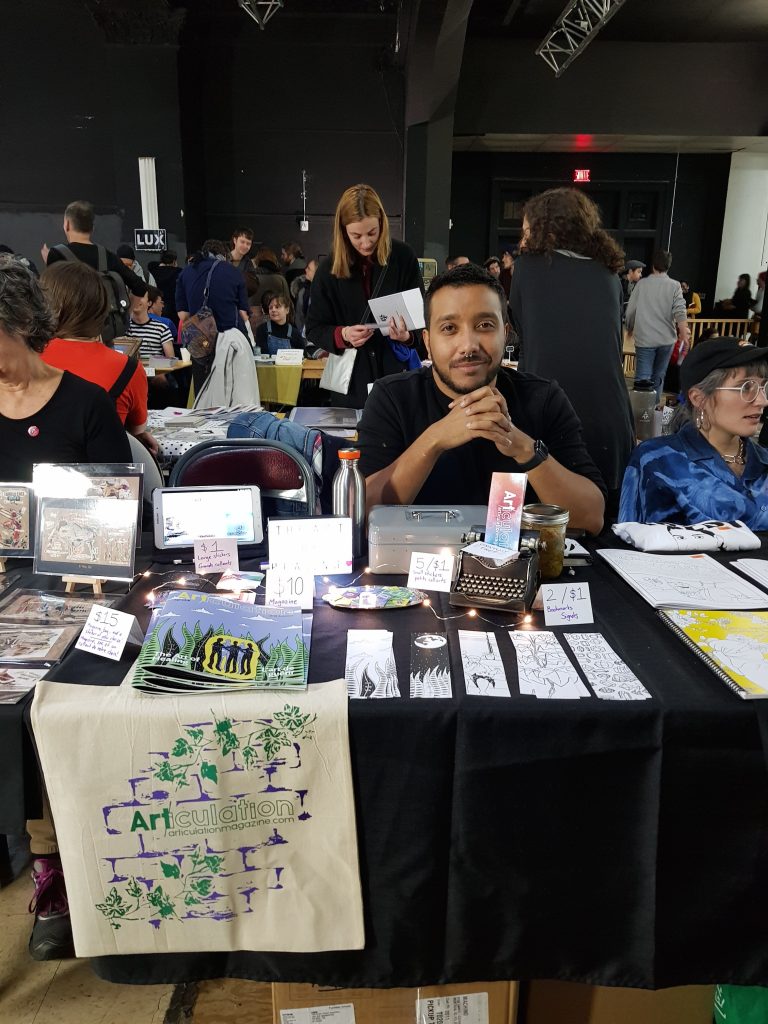 We're participating in our first ever Expozine and offering a package deal that includes a copy of "The Art of Healing," our new limited edition bags, a large sticker, and a bookmark of your choice, all for $15!
---
Release of "The Art of Healing" Issue
November 24, 2018
Our first open mic release event invited contributors to share their work with a live audience! Attendees were also provided a selection of artistic supplies and to create works that related to the theme of the magazine issue.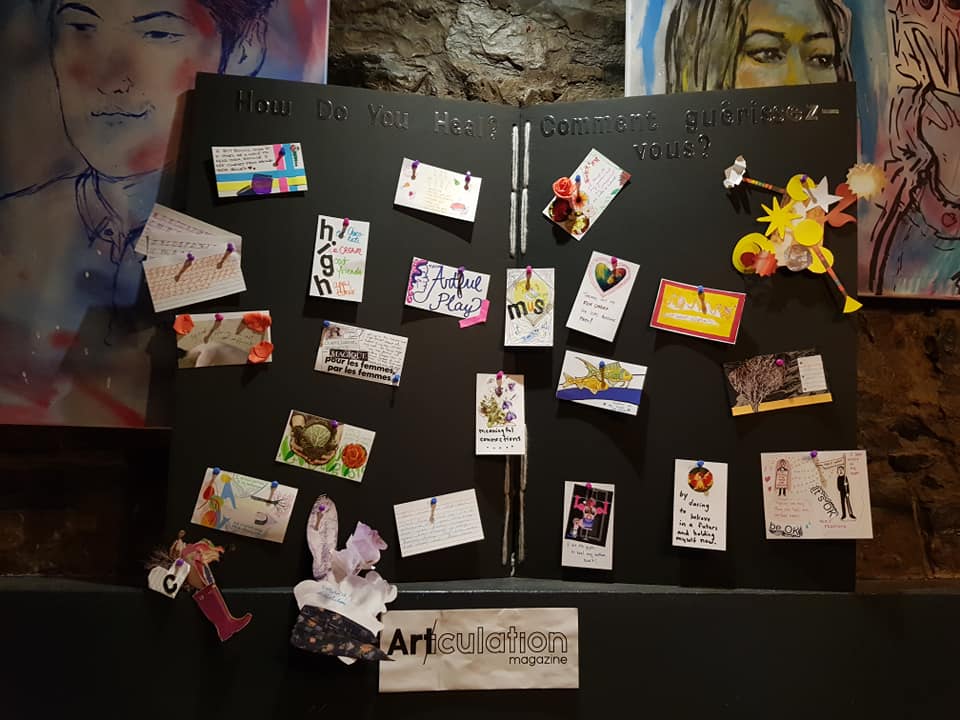 One activity included decorating cards that answered the question "What helps you heal?" All cards were displayed anonymously at the release event to generate discussion about effective tactics for improving mental, emotional, and physical wellbeing.
---
Finalists for 2018 Canadian Online Publishing Award
November 15, 2018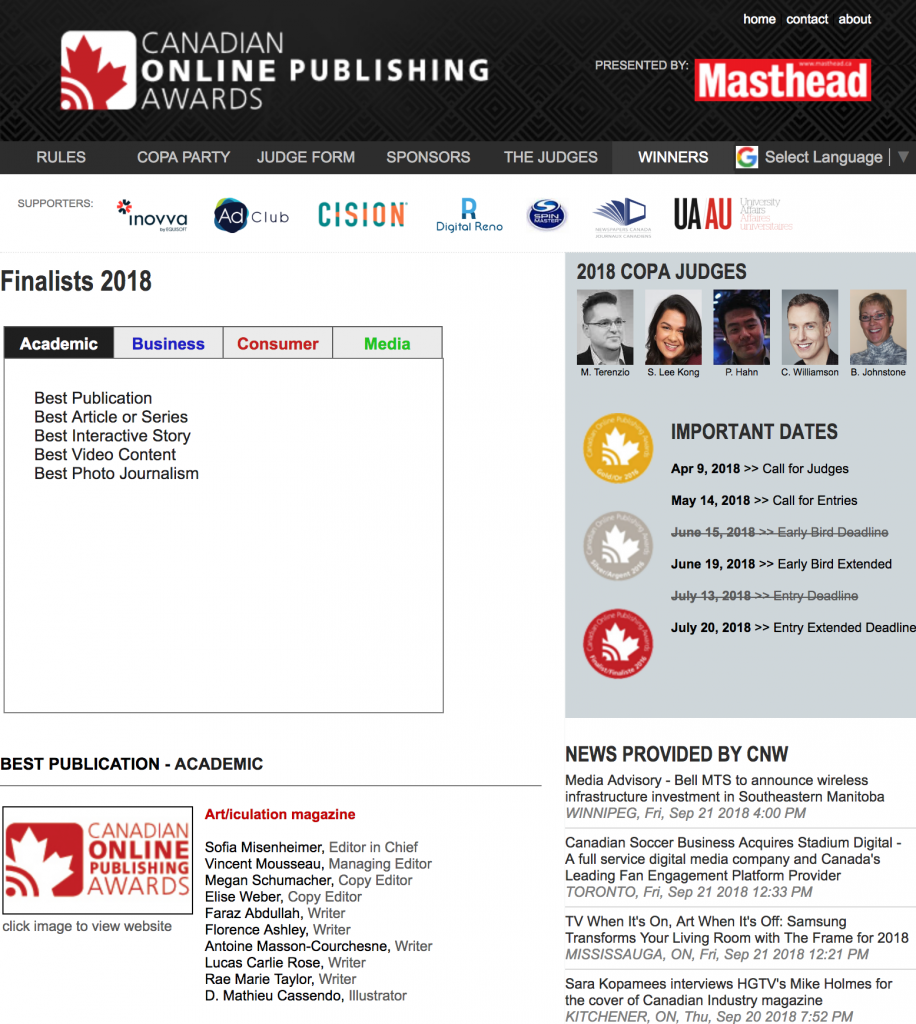 Congratulations to the Art/iculation team for tremendous work on the "Alive & Well" issue celebrating the resilience and beauty of local gender diverse communities in Montreal, which is shortlisted for "Best Publication – Academic" by the Canadian Online Publishing Awards!
Interview in Arts Life Magazine
October 30, 2018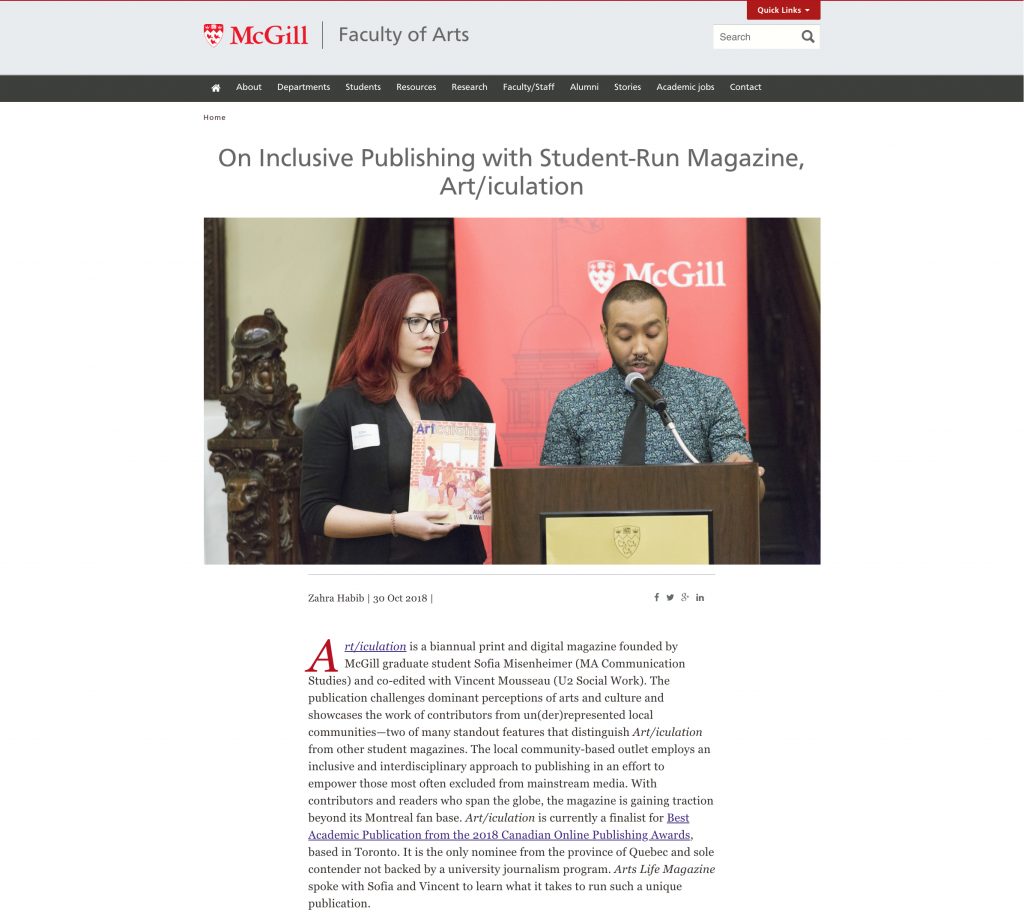 Arts Life Magazine spoke with the Art/iculation editorial team to learn what it takes to run such a unique publication. Read in full here.
---
McGill Alumni Association Annual General Meeting
October 3, 2018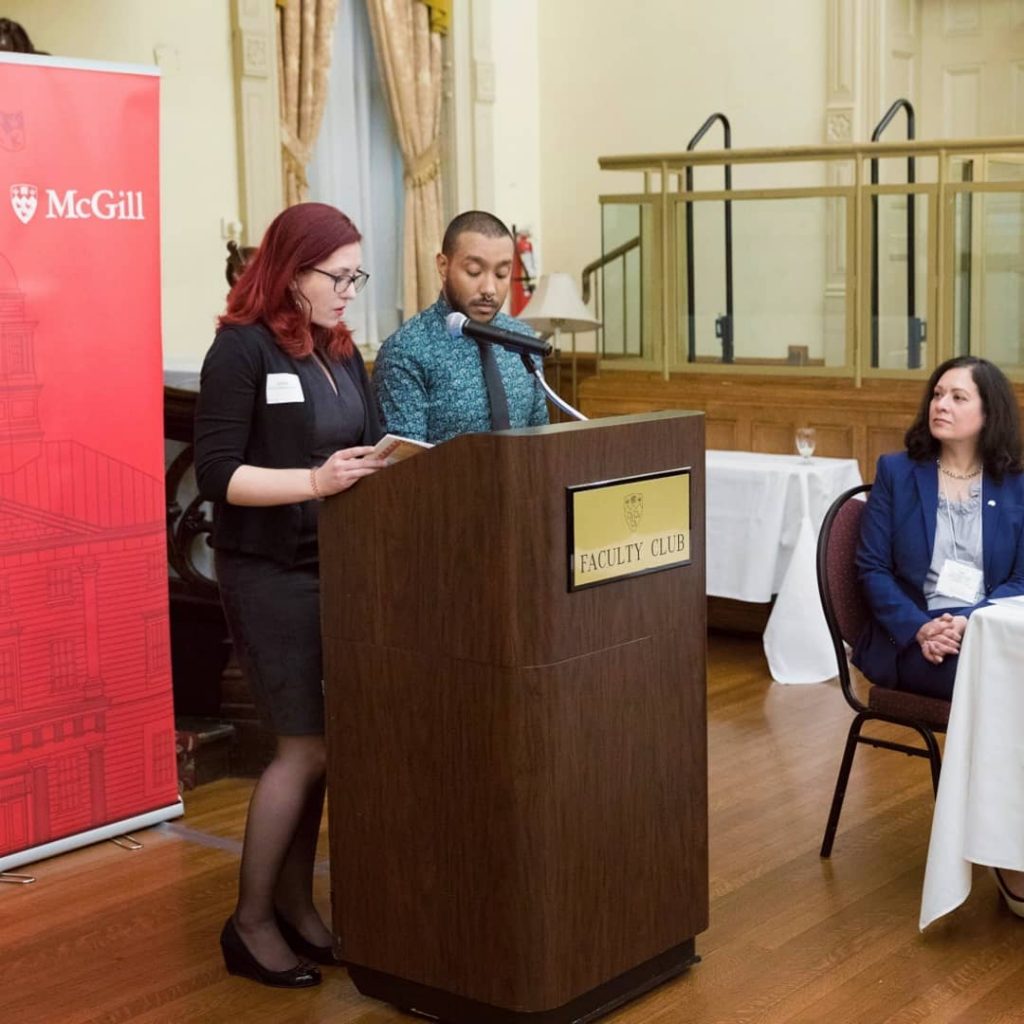 Editors Vincent Mousseau and Sofia Misenheimer provided a magazine update to the McGill Alumni Association and announced that the current issue is up for Best Academic Publication from the 2018 Canadian Online Publishing Awards!
---
Open Call for Fall 2018 "The Art of Healing" Issue
August 15, 2018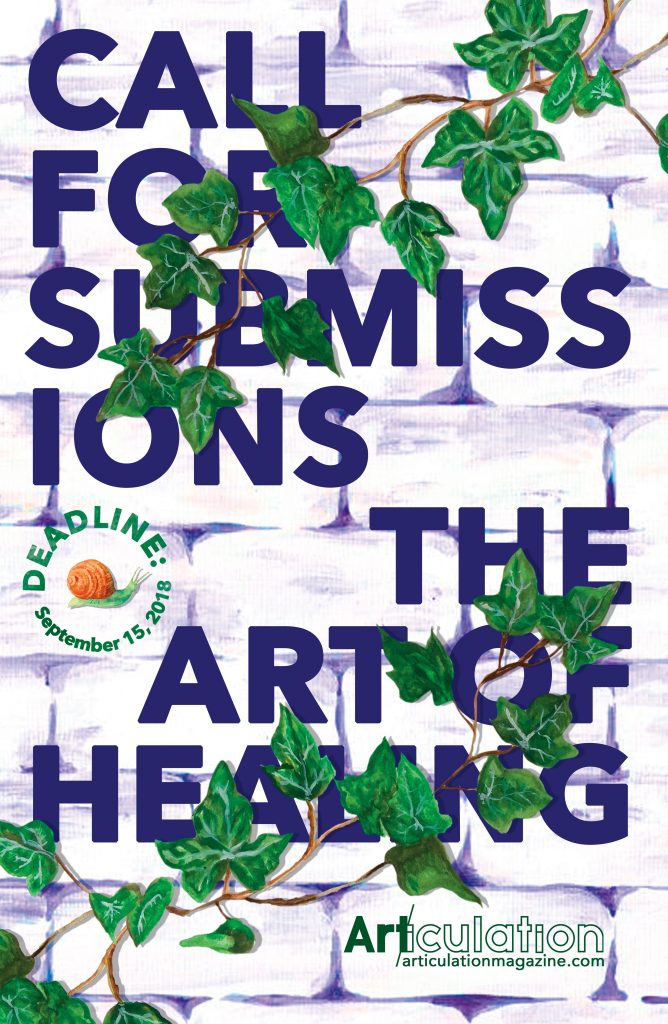 The next issue of Art/iculation will reflect on the healing power of art! Artistic expression can provide relief from stress, pain, trauma, or illness and help us process thoughts and emotions that may otherwise remain hidden or ignored. We're looking for stories, illustrations, personal essays, poetry, photography, and more about what creative practices help(ed) you or others through difficult times. Click here for guidelines.
---
On Ex Machina's SLĀV
July 6, 2018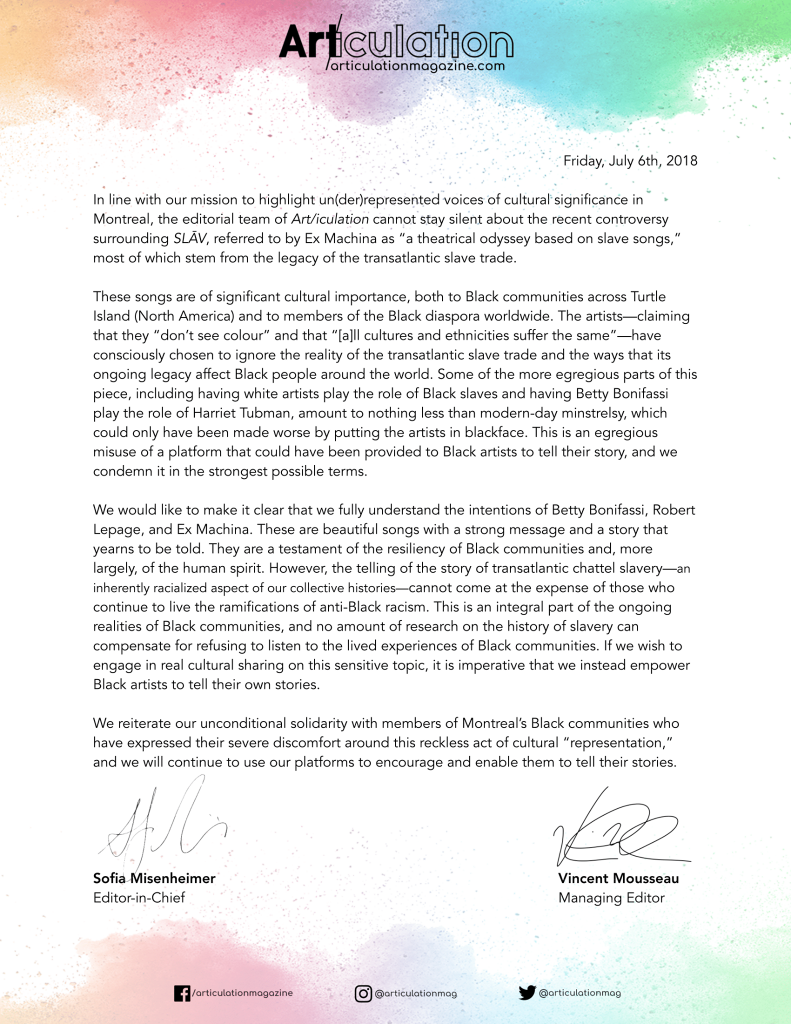 Our editorial team weighs in on the recent controversy surrounding Ex Machina's SLĀV and the subsequent #SLAVresistance.
---
Release of "Alive & Well" Issue
April 7, 2018
A big thank you to everyone who attended the launch of our "Alive & Well" issue commemorating the resilience and beauty of gender diverse communities in Montreal! We hope you enjoy your free copies of the issue, which recreates the journey of moving from surviving to thriving and puts different styles in conversation to demonstrate that the path to wellness is rarely linear.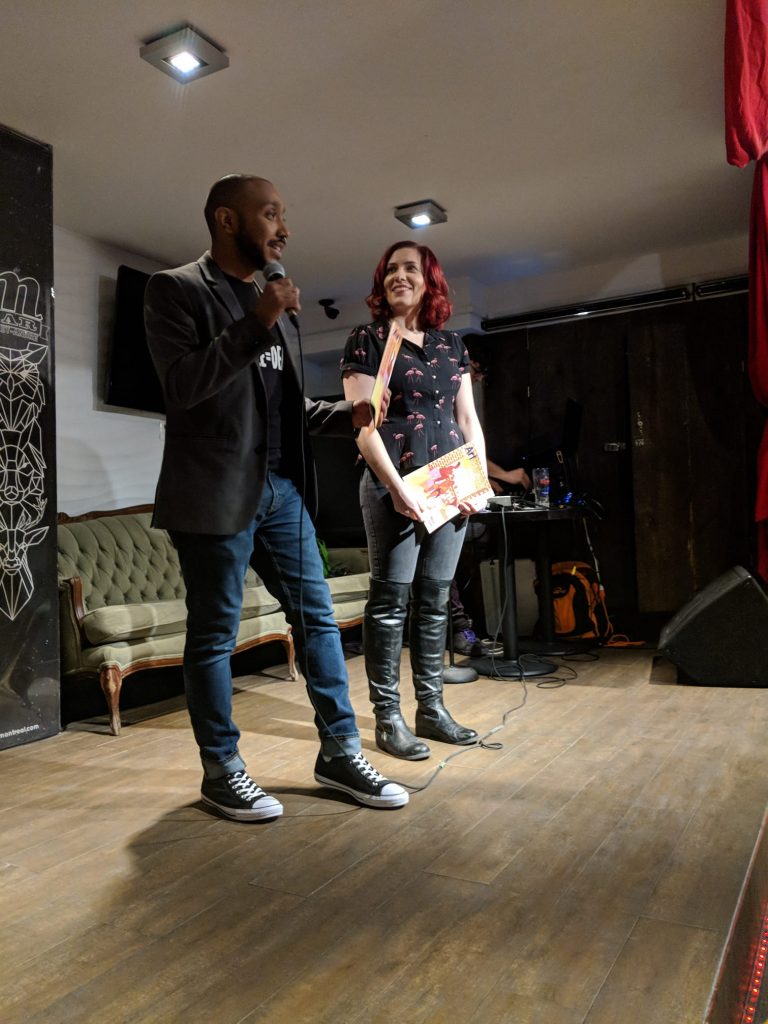 Managing Editor Vincent Mousseau shares the news that we raised approximately $400 in attendee donations for local trans outreach organization Taking What We Need !
---
Open Call for Spring 2018 "Alive & Well" Issue
December 1, 2017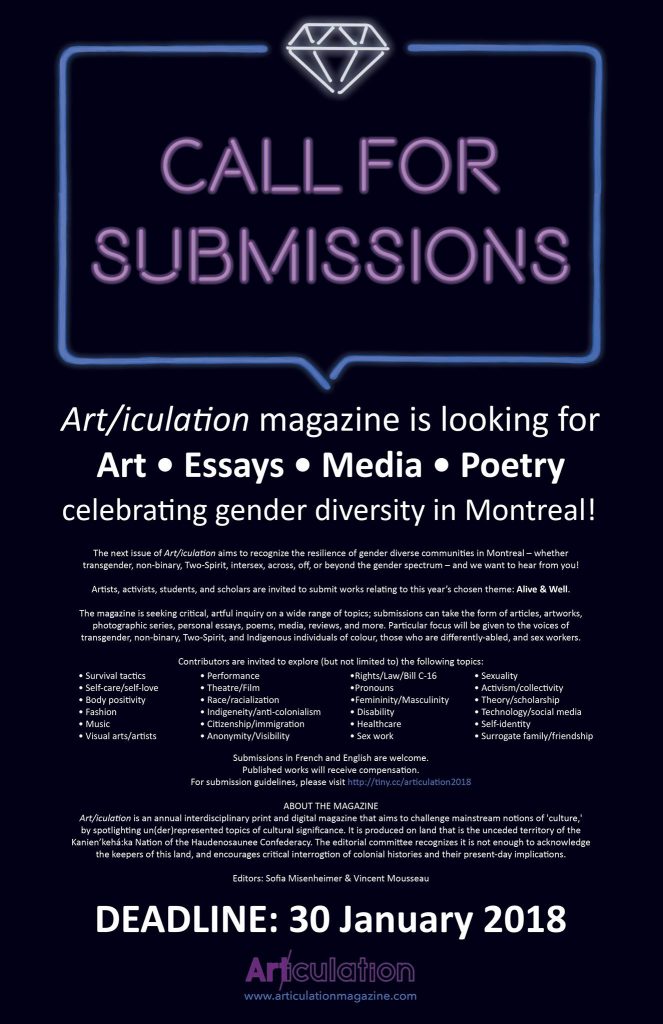 The next issue of Art/iculation aims to celebrate the resilience of gender diverse communities in Montreal – whether transgender, non-binary, Two-Spirit, intersex, across, off, or beyond the gender spectrum – and we want to hear from you! Click here for submission guidelines.
---
Présentation au McGill Alumni Association
October 7, 2017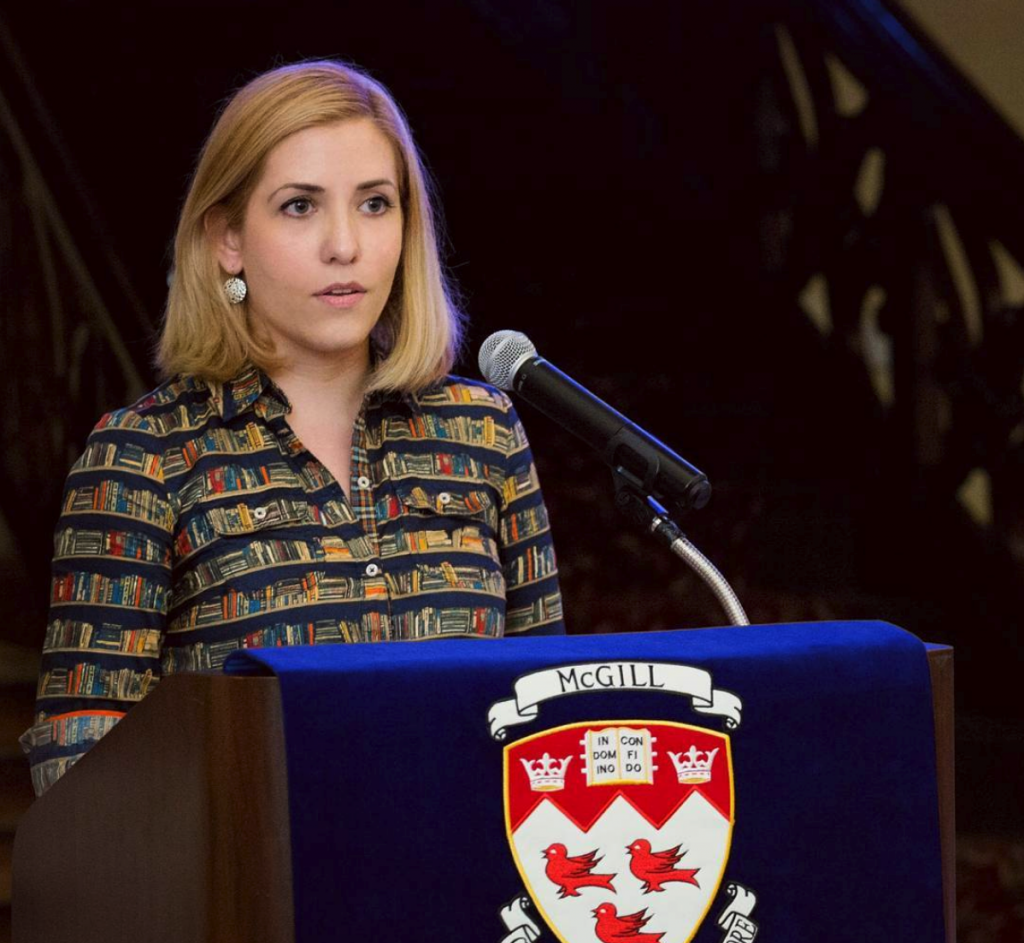 We were delighted to present about the success of our first Art/iculation issue at the Annual General Meeting of the McGill Alumni Association, a magazine sponsor, and to announce the upcoming "Alive & Well" issue!
---
Release of "While No One Was Looking" Issue
April 28, 2017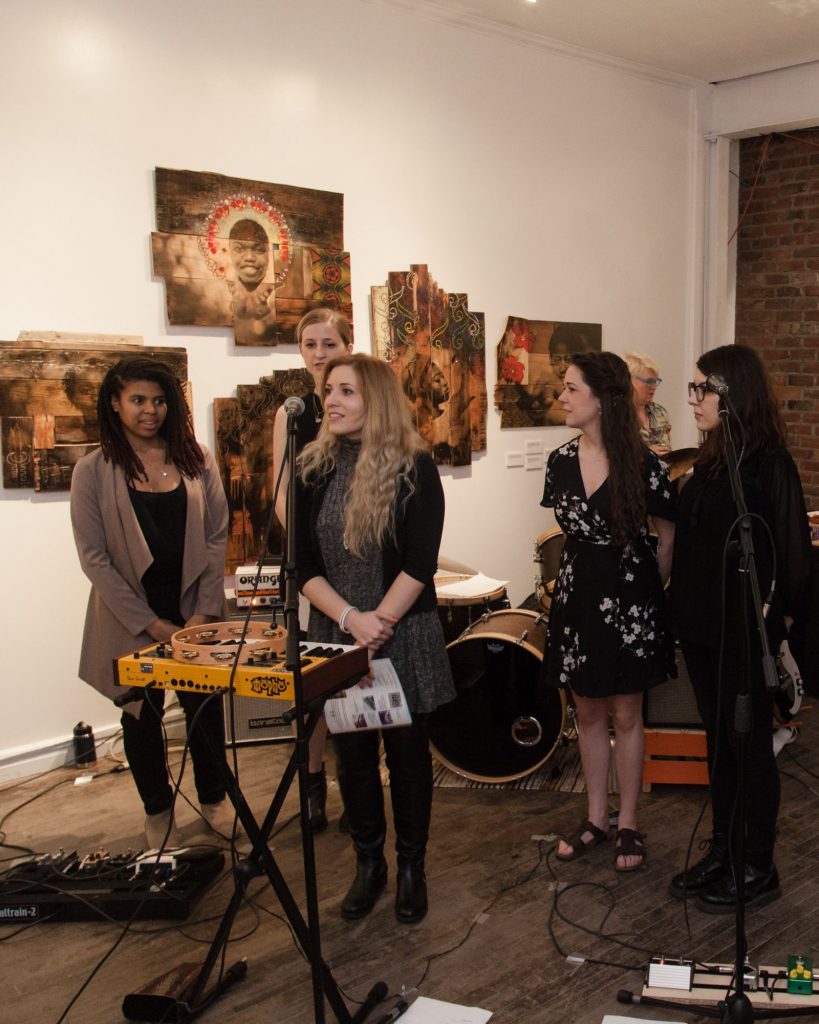 Thank you to the over 250 attendees of our magazine release at MainLine Gallery! We hope you enjoyed the accompanying exhibition, with performances by Hard Red Spring and DJs Sof Silva and Wally!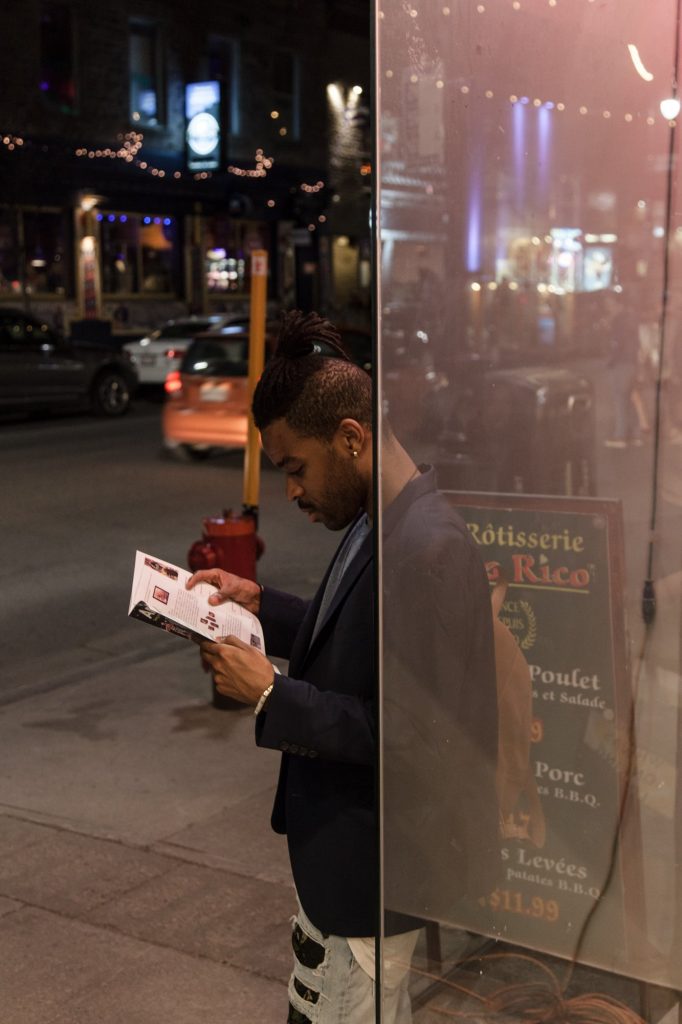 Be sure to pick up your complimentary copy of the inaugural issue before May 8, which features outstanding articles and artworks by Mira Baba, Lindsay Corbett, Itzel Danae Dorantes, Ayanna Dozier, Sandra Evoughlian, Kyrstin Felts, Kirsten Gerrie, Joana Joachim, La Reine, Victoria Lessard, Sofia Misenheimer, Christina Marie Phelps, Boris Romero, Jonathan Fraser Rouleau, and Unceded Voices Collective, as well as interviews with Dr. Charmaine Nelson (McGill), and Dr. Clarence Epstein (Concordia)!
---
Interview with CBC's Daybreak
April 28, 2017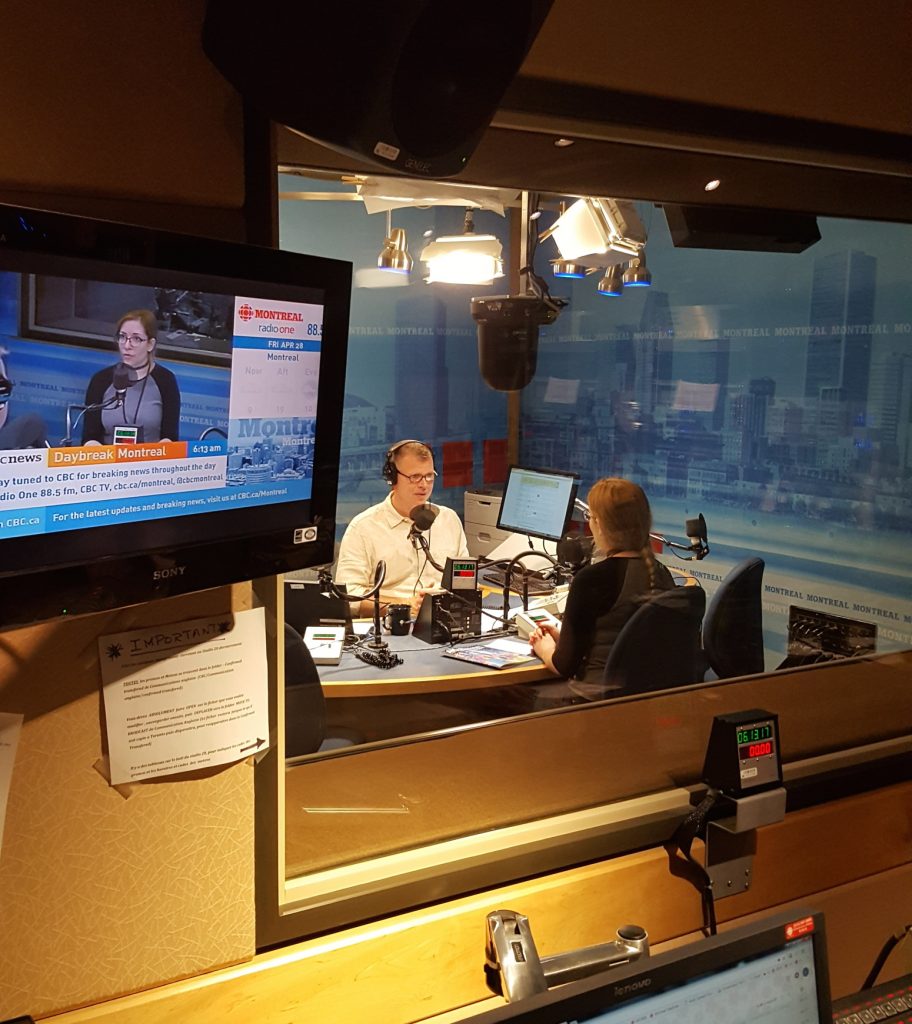 Founding Editor Sofia Misenheimer spoke with Mike Finnerty (CBC Daybreak) about the "While No One Was Looking" issue and the importance of making space for dialogue and encounter around anti-colonial concepts of place and agency, foregrounding marginalized experiences and histories, and decentring dominant celebrations of colonialism.